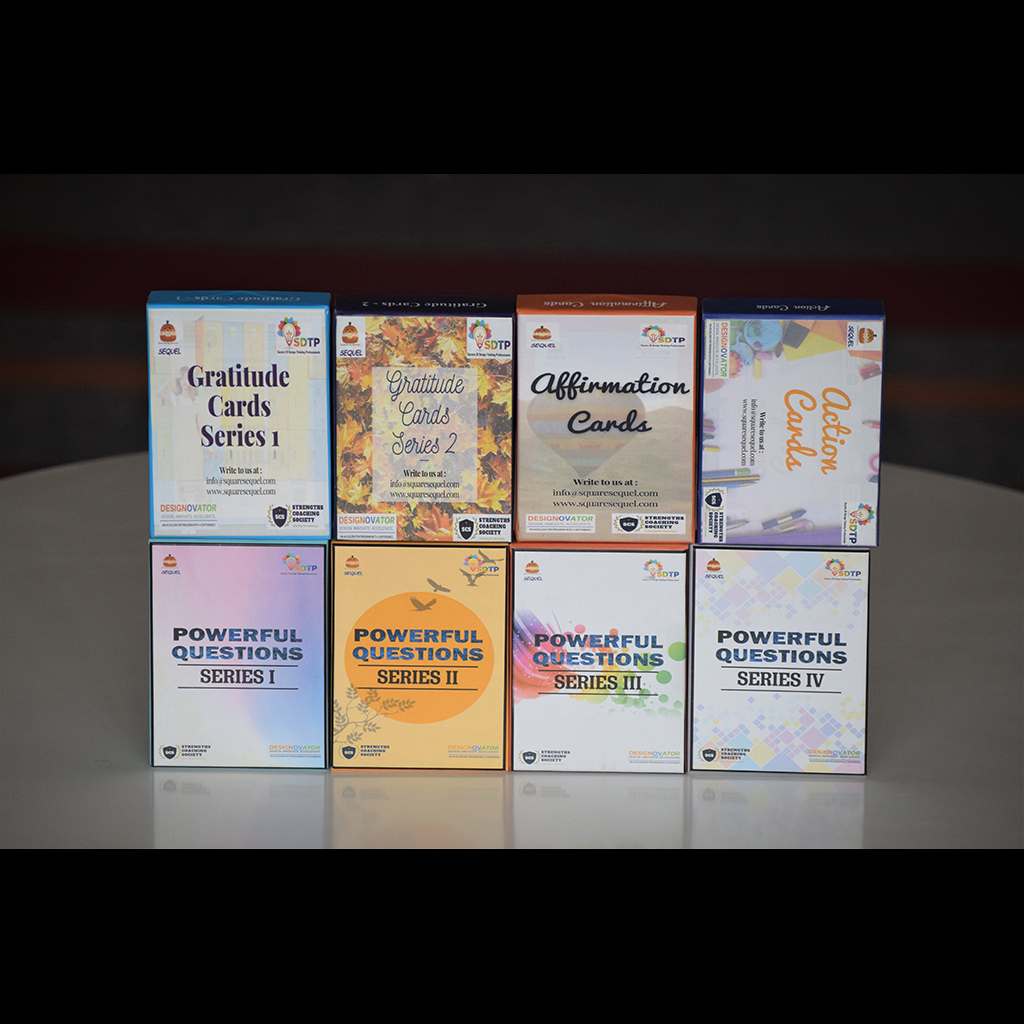 Powerful Questions plus Affirmation Cards - Mega Hamper
- 1 Set contains 8 Decks of Cards
- Each Deck contains 50 cards Each, with additional Cards for you to DIY and a How to Use Card
- Use these cards to have deep and meaningful conversations with anyone.
- Can be used to initiate Coaching Conversations for Personal Interviews, to Strike Conversations, For Group Discussions, Introduction or Icebreaker Activity, Group Interactions or even just a Getting to Know You Game with your Friends
- Pick one Card, ask the question or answer for yourself and let the conversations roll
- Best Deck of Powerful Question Cards, Order Now
Introducing the ultimate catalyst for meaningful connections – the "Self-Transformative Deck" of Powerful Questions and Affirmation Cards. Within this expansive collection, discover eight distinct decks, each housing 50 carefully curated cards. Unveil conversations that transcend the ordinary, enriched further by DIY cards and a comprehensive 'How to Use' guide.
Unlock the power of genuine interaction with these cards, whether for coaching sessions, group dynamics, or social settings. As you delve into these decks, you'll find endless opportunities to ignite discussions, initiate icebreakers, and foster deep understanding.
Each card is a gateway to exploration. Draw one, pose its question, and embark on a journey of discovery together. From personal interviews to team-building activities, these cards are versatile tools that empower communication and connection.
It isn't just a product; it's an experience that transforms conversations into meaningful encounters. Whether you're a coach, a facilitator, or a friend, these decks redefine how we engage with one another.
Elevate conversations to the extraordinary – one card at a time. Embrace the transformative power of these cards now and revolutionize the way you interact with the world around you.
Key Components
4 Powerful Questions Packs: Ignite your mind with introspective prompts from Series 1 to 4. Explore self-discovery, forge connections, reflect on life's lessons, and unleash your creative potential.
2 Sets of Gratitude Cards: Cultivate thankfulness and joy with our Gratitude Cards. Reflect on life's blessings, fostering positivity and a deeper appreciation for the present.
Affirmation Cards: Elevate your mindset with positive affirmations. Boost confidence, reduce stress, and nurture a positive outlook on life.
Action Cards: Drive results and seize the day with our Action Cards. Set goals, make impactful decisions, and experience the satisfaction of accomplishment.
Invest in Your Transformation
Unlock the power of introspection, gratitude, positivity, and action with our Mega Hamper. This comprehensive collection is your gateway to a life enriched with meaning, connection, and accomplishment.
Embrace the journey of transformation – explore our Mega Hamper now.