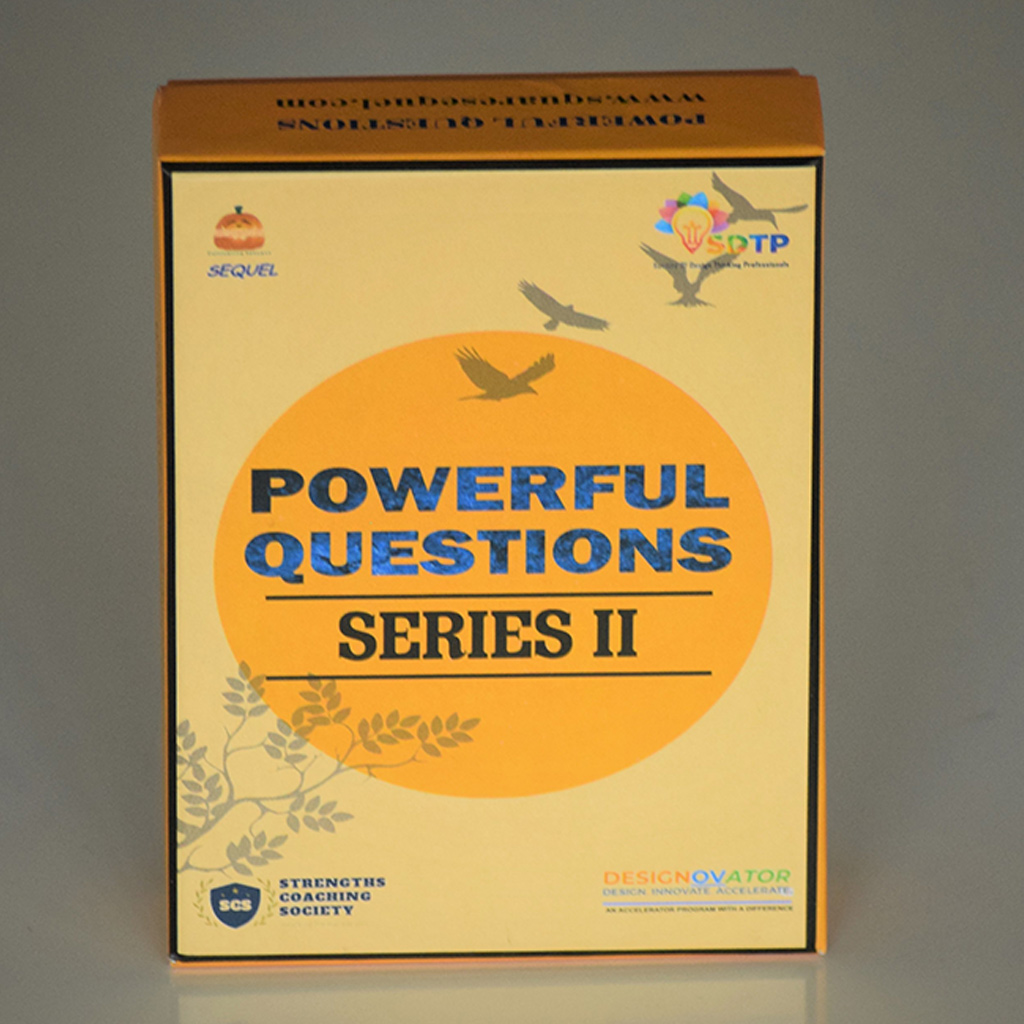 Powerful Questions - Series 2
- The Deck contains 50 cards, with additional Cards for you to DIY and a How to Use Card
- Use these cards to have deep and meaningful conversations with anyone.
- Can be used to initiate Coaching Conversations for Personal Interviews, to Strike Conversations, For Group Discussions, Introduction or Icebreaker Activity, Group Interactions or even just a Getting to Know You Game with your Friends
- Pick one Card, ask the question or answer for yourself and let the conversations roll
- Best Deck of Powerful Question Cards, Order Now
Unlock the art of captivating conversations with '50 Powerful Question Cards' for meaningful dialogue. This dynamic deck is your passport to transformative interactions that transcend surface-level discussion. With 50 meticulously curated cards, each question is a gateway to profound discussions. And that's just the start – extra DIY cards let you craft personalized prompts.
Imagine igniting coaching sessions, sparking group discussions, or simply forging deeper connections with friends. These cards are your arsenal for insightful interviews, impactful icebreakers, and enriched interactions. Choose a card, ask its question, and watch dialogues unfold with depth and purpose.
But the magic isn't limited to others. Self-discovery beckons as you explore these questions personally. With 'Powerful Question Cards,' you're not just initiating dialogues; you're embarking on journeys of understanding.
Key Features:
Thoughtful Questions: Embark on a journey of self-discovery and connection with our impactful questions, designed to inspire profound insights and conversations.
Intriguing Design: Each card showcases an intriguing design, featuring captivating visuals and engaging typography that captures the essence of curiosity.
Daily Exploration: Infuse your days with intellectual stimulation by selecting a card and delving into its question, sparking enriching contemplation.
Gift of Meaning: Share the gift of thoughtfulness with friends and loved ones, encouraging them to explore life's complexities and engage in more profound dialogues.
Invest in More Profound Conversations
Take charge of your conversations with our Powerful Question Cards, designed to fuel deep introspection and enriching discussions. Embrace the power of thought-provoking questions, celebrate shared insights, and embark on a journey of intellectual exploration.
Elevate your conversations today – get your Powerful Question Cards now.